BLOB  |  Co-Artist: Adrian Sjursen
A few times a year we take in apprentices from the local highschool. We let them be appart of our creative work and blossom in their own creative abilities. Adrian is one of them, a young talented artist. At the time he was working a lot with developing his own pattern. It was playful, repetitive yet with small pop ups of asymmetry and figures. –  How could we make him grow and give him a change of perspective?
This is when we thought of letting him do a work in public space. It would be a good exercise in magnifying something he usually would do in a smaller scale.
BLOB is a creation near the entrance at Spinae Company´s studio. The wall is a deep narrow gap between two buildings, mostly visible diagonally from the side.
His pattern was put flat upon the wall with a graded rectangle cutting through. Adrian´s pattern narrows with the distance and from one angle the rectangle appears hovering in front of it.
A game of perspective.
02 / 2015  |  ART IN PUBLIC SPACE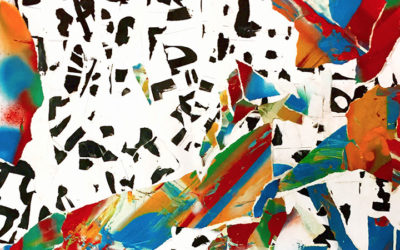 ABC  |  Artist: Nathanael Larsson ABC is a recent series of artworks made by Nathanael Larsson. Mixed techniques on paper as collage.  Lithographs has been made to a limited amount. Size: 70 x 100 cm. Order by mail11 / 2015  |  ART PIECE