SVALE  |  Stord Turn IL
Svale is the Norwegian name for Maltese Cross, an exercise in the gymnastic apparatus rings. Spinae Company has since the start been a part of the local gymnastic team´s training sessions.
November 2014 the National championships was being held at Stord  and Stord Turn IL was the host. For this event the gymnastic hall was being partly renovated and repainted. Therefor we saw it suiting that a gymnastic exercise would be decorated on the wall.
The picture is taken from the London Olympics 2012, Kohei Uchimura performing in rings. Svale is considered one of the most demanding static positions in rings.
What would be better to inspire the people training in the hall?
The plan is to annually make a new painting in the hall. A new exercise in a different apparatus.
11 / 2014  |  INTERIOR WALL PIECE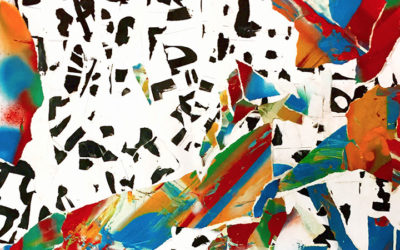 ABC  |  Artist: Nathanael Larsson ABC is a recent series of artworks made by Nathanael Larsson. Mixed techniques on paper as collage.  Lithographs has been made to a limited amount. Size: 70 x 100 cm. Order by mail11 / 2015  |  ART PIECE